Rajbhasha Cell IITRoorkee is organizing a national level online Hindi webinar on the theme "Strengths and Prospects of Hindi" via Webex. IIT Roorkee welcomes Prof. Girishwar Mishra, former Vice-Chancellor, Mahatma Gandhi International Hindi University Wardha Maharashtra
Distinguished speaker Smt. Suniti Sharma, Director (Rajbhasha) MHRD and Prof. Gajendra Pathak, Institute of Hyderabad. Click to register – https://bit.ly/33t8urT Click to Join webinar – http://bit.ly/2Pvq0U0 Date and Time – 07/08/2020 & 11.00 am onwards.
IIT Roorkee will be provided e-certificates.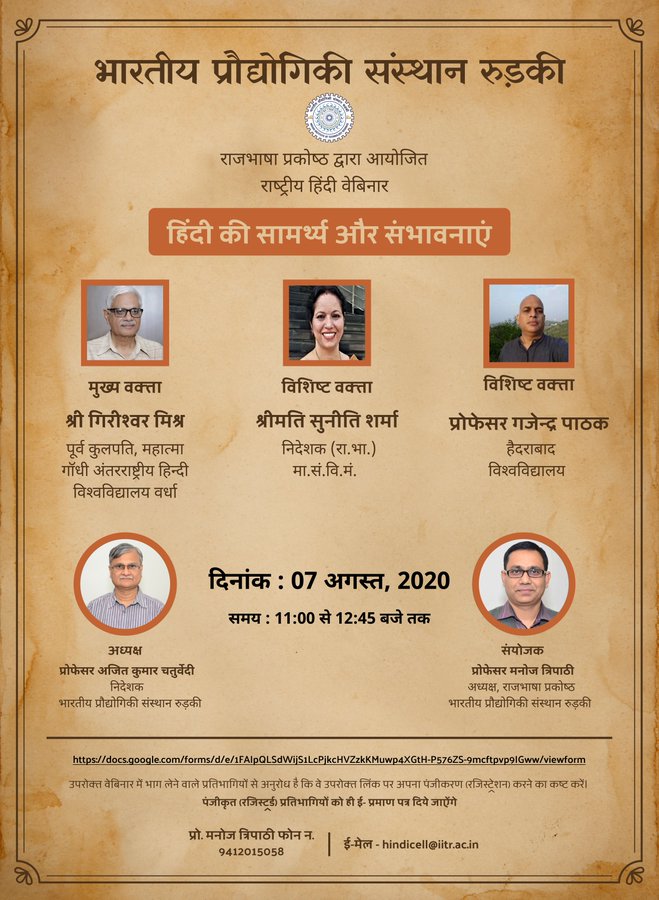 दिनांक 07 अगस्त, 2020 को पूर्वाहन में 11:00 बजे वेबेक्स के माध्यम से ऑनलाइन राष्ट्रीय स्तर की एक हिंदी वेबिनार का आयोजन किया जा रहा है। अत: वेबिनार में भाग लेने के लिए निम्‍नांकित दिए गए पंजीकरण लिंक पर अपना पंजीकरण करने का कष्‍ट करें तथा वेबिनार में भाग लेने वाले पंजीकृृृत प्रतिभागियों को ई-प्रमाण पत्र प्रदान किए जाएंगे। पंजीकरण लिंक – https://bit.ly/33t8urT वेबिनार में भाग लिए जाने हेतु लिंक – https://bit.ly/2Pvq0U0
Event number: 166 061 5551
Event password: 4RNrn42XPM