Assignemnt 6
Due date: 2020-10-28, 23:59 IST.
The figure shows a map (repeated from Week 5) with several locations on a grid where each tile is 10km x 10 km in size. In this map, S is the start node and G is the goal node, the locations are connected by two-way edges (roads). Each edge has a cost and the cost is the same in both directions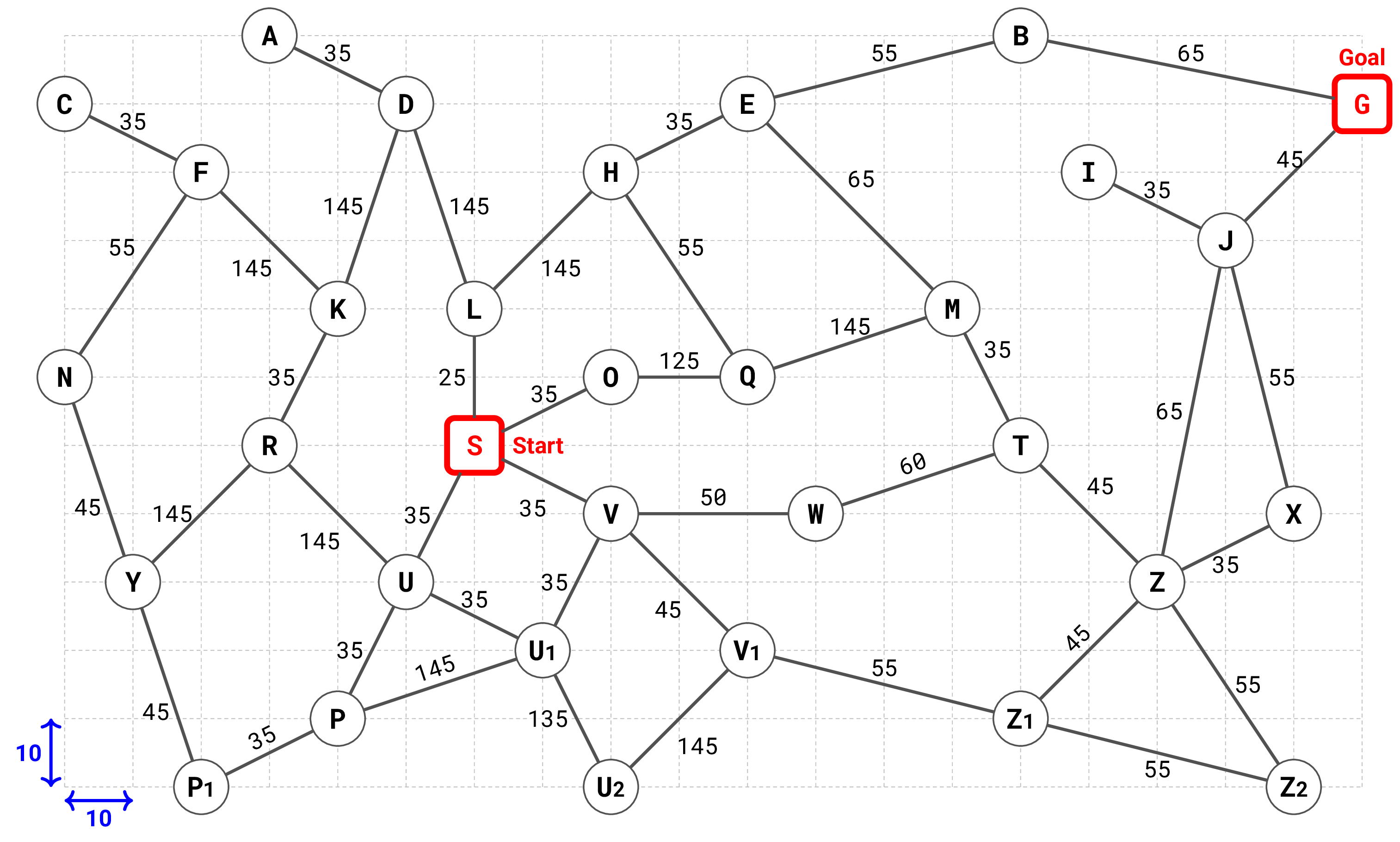 For this map, MoveGen returns nodes in alphabetical order.
When several nodes have the same cost, use alphabetical order to break ties.
When the same node occurs multiple times with the same cost then use the open-sequence-number to break ties, i.e., pick up the node occurrence that is oldest (was placed earliest in time) in the OPEN list.
Where needed, use Manhattan distance as the heuristic function.
Simulate WA* with w=2, Breadth First Heuristic Search with U=312, Sparse-Memory Graph Search, and Beam Search with w=2 on the above map and answer the following questions
BEGIN GROUP
END GROUP
BEGIN GROUP
Simulate the Breadth First Heuristic Search (BFHS) with U=312 on the given map. Remember that the MoveGen function generates nodes in alphabetic order and that the algorithm does not add nodes that are in OPEN or CLOSED to OPEN.

Assume f = g + h, where g is the actual-cost of the path generated by BFHS (not by A*), and h is the heuristic value. Prune the new nodes if f-value is greater than or equal to U. Prune the nodes before placing them in OPEN list.
END GROUP
BEGIN GROUP
For the following questions assume that the Sparse-Memory Graph Search (SMGS) has enough memory to only hold 4 nodes in Kernel. We will not count S to be part of the Kernel (because it is never deleted).

In this group, enter ALL node-lists in ALPHABETIC order.


END GROUP
BEGIN GROUP
Simulate the Beam Search (with f-values) with beam width w=2. This means the best two nodes are retained at each level irrespective of whether they are better than their parents or not.
END GROUP
1 point
When the Monotone Condition is satisfied we sometimes force the search to "never leak" back because